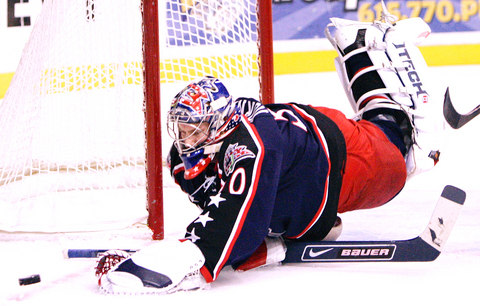 Norrena, Columbus -- If you ask me, Fredrik (pictured left) became the man in goal for the Blue Jackets. In supplanting the injured Leclaire, Norrena did something no other Columbus No. 1 goalie had done -- finish with a winning record (24-22-3).

"Freddie really came up big when we needed someone to come in and give us great goaltending," Jackets star winger
Rick Nash
told me late last season.
Hasek and Osgood should give Detroit solid goaltending regardless of injuries or a slump or two. It will be interesting to see if Mason in Nashville, Legace in St. Louis, Khabibulin in Chicago and Norrena in Columbus can put back-to-back good seasons of puckstopping on the scoreboard.
When you consider that this group of goalies range from Mason at 31 to Hasek at 42, there's plenty of netminding experience. But long-term stability?
Stay tuned.
Wiggie also had this to say about the Jackets:
Blue Jackets -- Fresh start. Clean slate. Those were the first words out of the mouth of Ken Hitchcock after he replaced Gerard Gallant as coach of the
Columbus Blue Jackets
last November. The same tone applies in the first Jackets training camp for the team of Hitchcock and new GM Scott Howson.
The executive tandem has spent countless hours visiting with each player by phone or in person during the off-season conveying the expectations they have in Columbus this season. Playing with more of an edge or attitude comes up often.
While not singling out either
Sergei Fedorov
or
Nikolai Zherdev
, it's clear that Howson and Hitchcock want more than 42 points from Fedorov and 32 points from Zherdev. The personal touch with Federov and Zherdev, for example, stressed how important Howson and Hitchcock think they are to the success of the Jackets this season.

I agree with Wiggie that Norrena will ultimately be the man this year in nets for the Jackets but I wouldn't rule out Leclaire yet. As has been said before in this space, the kid's got the world class talent he just has yet to prove he's got that world class durability.

-LTL