The Dispatch has a variety of news and notes from camp this morning so lets break them down 1 by 1:

Free agent acquisition Jiri Novotny, who is expected to center the 4th line, has visa issues that were out of his control. He is expected to finally report to camp on Monday or Tuesday.


Defensemen Adam Foote tweaked his groin. Here are coach Ken Hitchcock's comments about it: "It's a tweak," coach Ken Hitchcock said. "He got it caught in a rut. It's just day to day." Groin problems seems to follow Foote around year after year hopefully this isn't a reoccuring problem but I have a feeling we'll see this again.

Pro try out player Joel Bouchard missed practice yesterday with food poisining. Word I hear is that Hitchcock is pleased with Bouchard but this guy has an obvious track record of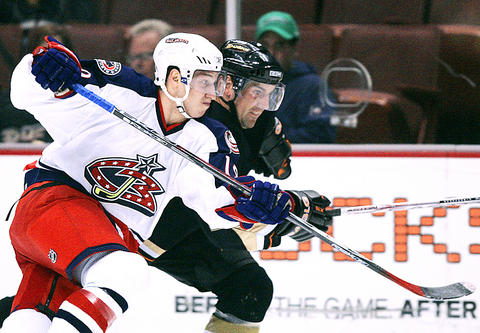 injuries. I don't think anyone saw food poisining as a reason this guy won't be in the lineup though.

Fredrick Modin sat out practice yesterday due to back spasms. This guy looked ready to play opening day on the first day of camp - he'll be fine.
In the good news department, 2004 first round pick Alexandre Picard (pictured left) is back skating again after taking what he terms as a "cheap shot" in the AHL in April last season.
Season ticket sales are right at the 10,500 mark which puts the Jackets in the middles of the league. Season ticket renewals were 85% and they made up 5% with new ticket sales. At this point this team needs to win to generate new ticket sales and the NHL agrees: "They're pretty happy where we're at," Priest said. "Their point is that we haven't yet been able to use the most effective marketing tool of all, and that's winning." If there was any doubt left that the honeymoon is over it should now be erased.
According to Hitchcock the game tonight against the Predators will see both teams ice young lineup. It is expected that the Jackets will ice one veteran line of Nash-Zherdev-Vybonry.
For those going to the game tonight, keep your ears pealed for the new goal song tryouts. The 4 candidates will be rotated throughout the preseason. Remember to vote for your favorite over on BlueJackets.nhl.com
Single games ticket for the Jackets are on sale now starting yesterday.
In some other league news:
Versus TV schedule has been posted on their site. Whats interesting to note is that the game between LA and Anaheim will be televised live on the network Sept 30th at noon.
Don't forget the RBar Arena opens its doors today at noon.
I'll have a full game report late tonight (have a my own hockey game after the Jackets) so check back soon.
-LTL