Don't look now but our boy Eklund over at hockeybuzz.com has a new Z rumor for us:

Looking into this now. Being told it is likely in the East....possibly Washington...I am talking to a few people who have been involved and said, "No." stay tuned.

You've gotta think at this point that the Jackets are listening or knocking on doors to see what they could get for #13 -- the question is is there any interest? I would say there probably is but unless he is moved as part of a package we aren't looking at any big names coming back. At this point though, losing Z could be addition by subtraction for that locker room.

Kevin Allen (who is one of my favorite hockey writers) of USAToday.com has a fun article up today - even has a Blue Jacket nugget in there:

Who you should watch: 1. The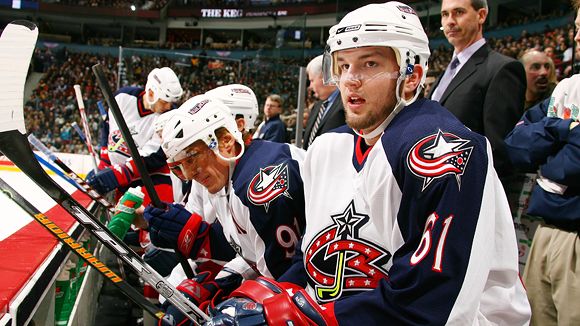 Pittsburgh Penguins. It's not too early for them to win it all. 2. Columbus Blue Jackets winger Rick Nash. He has the talent to be among the top five offensive players. 3. Nashville Predators defenseman Shea Weber. Not this season, but some day he'll win a Norris Trophy because he can do it all.

He also makes some predictions:

Teams that could slip in the standings: 1. Edmonton Oilers. 2. New Jersey Devils. 3. New York Islanders.

Teams that could be in the hunt for the No. 1 pick: 1. Coyotes.. 2. Oilers. 3. Boston Bruins.

Most improved teams: 1. Philadelphia Flyers. 2. Los Angeles Kings. 3. Washington Capitals.

Who's under pressure: 1. Toronto Maple Leafs GM John Ferguson. 2. Buffalo's $7 million man, Tomas Vanek. 3. Boston GM Peter Chiarelli. 4. Edmonton's Dustin Penner. 5. The Tampa Bay Lightning's goaltenders.

The good news is that he doesn't pick us to be in the hunt for the #1 pick. The bad news is that he also doesn't pick us to be one of the most improved teams.

Read more from Allen here.

TSN.ca takes a look at rookies to watch for and finally someone mentions our boy Russell's name:

Kris Russell, D, Columbus - Undersized (5-foot-10, 167 pounds) blueliner who has superior smarts along with terrific puck skills and was named the WHL's top defenceman in each of the last two seasons. A third-round pick in 2005, Russell scored 32 goals last season and has could land a spot on the Blue Jackets' power play.

They not only metion Russell but Brassard gets some notice as well:

Derick Brassard, C, Columbus - The sixth overall pick in 2006, Brassard missed most of last season with a shoulder injury, but he's impressing in camp with the Jackets this year. He might need some seasoning in the AHL, but Brassard has the kind of playmaking ability that could be a real boost for the Blue Jackets.

TSN.ca has also released their first "power rankings" of the season - here is where the Jackets stack up to start the year:

#29
At the very least, the Blue Jackets can be expected to play a more responsible game under Ken Hitchcock's leadership and they could surprise if some of their young players can get used to the idea of bringing it every night. Key Injuries: None.

Umm... key injuries: none? Well I guess if your don't count Adam Foote, Michael Peca or Fredrik Modin then I guess it is none.

NHL.com takes a look at 82 reasons to be excited this year:

43. Watching David Vyborny playing sound, fundamental hockey in Columbus. Maybe this is the season that he will be recognized across the League for how good he is.

I personally like this one:

76. Blogs. The new frontier of hockey journalism is finding its feet and feeling its oats. More in-depth information on teams is available now because of these dedicated and independent posters.

Yahoo.com has an article that "Faces off with Dan Fritsche":

1) What CD would you have to have with you on a cross-country drive?
I would have to go with a country mix CD. Maybe a Kenny Chesney CD. I'm a country guy.

2) Who would portray you in a movie about your life?
I would say Kiefer Sutherland because I'm pretty much obsessed with him.

3) What celebrity "melts the ice" for you?
Jessica Simpson, for sure.

4) Who is your all-time favorite roommate on the road?
Aaron Johnson, without a doubt. He is the best guy in the world.

5) What's the worst movie you've ever seen?
Worst movie I have ever seen is "Napoleon Dynamite." I walked right out of the theater.

Yahoo.com also has a team by team preview capsules:

COLUMBUS BLUE JACKETS
LAST SEASON: 33-42-7, 73 points. Out of playoffs.
COACH: Ken Hitchcock, 2nd season, 28-29-5; 13th overall, 436-278-105.
ADDED: D Sheldon Brookbank, C Jiri Novotny, C Michael Peca,
LOST: G Brian Boucher, D Bryan Berard, D Anders Eriksson, D Aaron Johnson, C Alexander Svitov,

PLAYER TO WATCH: Nikolai Zherdev continues to be an enigma after dropping from 27 goals in 2005-06 to 10 last season. Hitchcock is trying him as a first-line center between LW Rick Nash RW David Vyborny.

ICING: Scott Howson was hired as general manager in June, but his only major signing came in late August in Peca, who had four goals and had 11 assists in 35 games with the Maple Leafs before breaking his right leg in a collision last December. ... Svitov signed a two-year, $2.25 million contract with the Blue Jackets in early July, but has since remained in Russia to play for Avangard Omsk of the Russian Super League. ... Goaltending continues to be a question mark. Pascal Leclaire was limited to 24 games last season because of a knee injury and finished 6-12-2, but Frederik Norrena was a competent replacement with a 24-23-3 mark. ... The Blue Jackets are the only one of the 30 NHL teams to never play in the playoffs. ... C Sergei Fedorov and D Adam Foote may both be playing in their final seasons in 2007-08.

ESPN.com also has a preview of the NHL up including an in depth look at the Central:




ESPN.com's Bunside previews the Jackets as well:
So, you've been in the NHL for six seasons and haven't come within a country mile of a playoff berth. What do you do? Well, you get the biggest incendiary device you can find, and when the dust clears, you start from scratch. That's sort of what the Blue Jackets have done over the past year, first with the firing of overmatched coach Gerard Gallant and the subsequent offseason dismissal of the mess' architect, GM Doug MacLean.
Ken Hitchcock now will have a full season to impose his considerable will and hockey smarts on the team, while new GM Scott Howson will try to sort out exactly what he's got in terms of talent. It won't be pretty this season, but by next summer, we wager the Blue Jackets will be a completely different team.
Read much more about that preview
here
.
FSN Ohio will air a special Blue Jackets season preview on October 1st at 7:30 EST. It will air a total of five times.
..and if that's not enough I have some Crunch news for you as well:
At least Karl Goehring won't play the role of a Crunch enemy, which is great for fans but bad for him.
The popular ex-Syracuse goalie was released from his tryout contract in Buffalo on Tuesday. Had he stuck with the organization, he might have played for the Amerks against Syracuse.

and...
Dan LaCosta will get the start in goal on Friday when Syracuse visits Albany for its first exhibition game.
and some info on Zenon Konopka who is out with a hand injury...
The one hitch, from a Crunch perspective, is that Konopka has to clear NHL waivers before he can be assigned here. Konopka fell in love with Syracuse like few other players I've covered when he got here last mid-season, and he took missing the playoffs hard. But, of course, getting claimed on waivers means he'd get a shot at the NHL.
"I want a championship this year. I'm hungry to win again,'' he said. "I think we have more than a legit chance of raising the Calder Cup this year. Obviously, if I'm playing in the NHL, it's something I want to do. If I'm playing in Syracuse, it's no problem. I'm really looking forward to having an enjoyable season this year. I think it's way overdue, that city having a winning team on the ice.''
Read more about the Crunch
here
.
-LTL