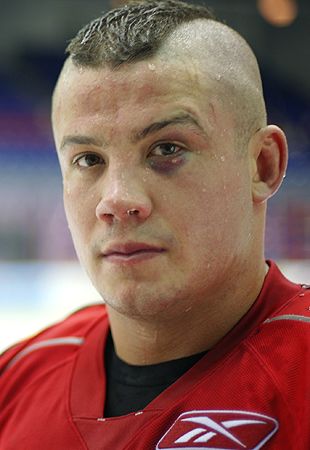 Just read this off of
Lindsay Kramer's Crunch blog
:
Crunch enforcer Jon Mirasty has signed an AHL deal that will return him to the team next season.

Mirasty put the "bad'' in the team's bad boy image last year, compiling 181 PIM and 17 majors in 55 games.

"I was offered many 2-way (deals),'' Mirasty said. "It worked out well to come back to Columbus. I'll prove myself there. If they (the Blue Jackets) like it, that's great. If not, I have a happy home in Syracuse.''

I asked Mirasty if his reputation might make it harder for him to get fights. He said he expects just the opposite to be true, that teams will be coming at Syracuse because of the havoc it caused this season.

"I think you'll see an increase in the fights this year,'' he said. "I'm sure other teams are going to pick up on that (Syracuse's reputation).''
I think is great news. Mirasty seems to be a positive influence on that team and with plenty of more youngsters like Legein expected to be on the roster next season he will make sure Columbus' stable of prospects have plenty room to learn the pro game.

Heck... it wouldn't suprise me if he gets a call up here or there next season if we need that kind of presence in the Jackets lineup. As a season goes on you never know.
I wouldn't mind seeing Mirasty get nasty with a certain team from Tennesee.
-LTL