Puck-rakers just posted Chicago's lineup for tonight:

Forwards: Jack Skille, Jesse Boulerice, Kevyn Adams, Troy Brouwer, Igor Makarov, Pascal Pelletier, Craig Adams, Kris Versteeg, Petri Kontiola, Adam Burish, Evan Brophey, Ben Eager.

Defense: Niklas Hjalmarsson, Brent Sopel, Jordan Hendry, Matt Walker, Doug Janik, Aaron Johnson.

Goaltenders: Cristobal Huet, Nikolai Khabibulin.

Only a couple of regulars in that mix for Chicago but they did bring some muscle in Boulerice and Burish to name a few.

Bottom line is the Jackets should steamroll right over this Chicago lineup with the guns they are breaking out for tonight's game....and I stress should. They'll need to solve Huet or Khabibulin to get there and we know how the Jackets have a penchant for making goaltenders look like Vezina winners.

CNNSI.com Darren Elliot had this to say about the Jackets:

For all the promise shown last season, this still won't be the campaign in which the Jackets finally make the playoffs for the first time in their history. Alas, they still don't have enough dependable scoring outside of Rick Nash, even with the additions of Kristian Backman and RJ Umberger.

No mention of the young impact rookies expected to help scoring. Then again that's no surprise given the probably 2 minutes worth of research Elliot put it on the Jackets.

While Allen Muir, also of CNNSI.com, asks this question about the Jackets:

Were the sweeping changes enough for a playoff berth?

Give GM Scott Howson credit. He recognized that the mix he inherited was not good enough, and rather than move his food around the plate, he came up with a whole new recipe.

Howson bet heavily that R.J. Umberger's stellar playoff run wasn't a fluke, and that he'll be the center the Jackets have long sought for Rick Nash. Howson traded one talented but enigmatic scorer (Nikolai Zherdev) and brought in another (UFA Kristian Huselius). He added Jiri Novotny and Raffi Torres for a more rambunctious checking line. And he completely revamped the blueline, wildly overspending on free agent Mike Commodore and airlifting Fedor Tyutin and Christian Backman in from the Rangers.

Those are a lot of new faces...and not one is a sure thing. But you have to like the look of the mix. For the most part, it's a gritty, straightforward bunch that looks ideally suited to work with coach Ken Hitchcock's system. If they can get anything out of an impressive-looking but unproven group of youngsters, including Derick Brassard, Nikita Filatov, Jakub Voracek and Maxim Mayorov, the Jackets should contend for a postseason spot...but that may be as close as they get in the highly competitive West.

Here Muir does a much better job. He at least mentions some of the young guns who are showing they are ready for the big-time and the style the Jackets are going to play. Although he did swing and whiff on Jiri Novotny being a new face.

Speaking of Filatov, he seems to be getting good reviews now that he's back skating with the team. Puck-rakers dropped this juicy quote from Hitch today about when the Jackets could expect to see him in game action:

"We'll see how he looks Wednesday in practice," Hitchcock said. "He looked a lot better (today) than (Sunday). A lot more confident. He really looked good today."

I've heard very good speed and agility thus far with this kid. We all may finally get a chance to judge for ourselves come Thursday or Friday.

If this kid makes a case Howson could have a tough decision on his hands. Portzline asked Howson if they would keep Filatov around for the start of the season as under the current CBA you can hold onto a player for 9 games before sending them back to their junior team. Howson said he hasn't ruled it out.

We'll have to see how he does but if I was a betting man I think they take the cautious approach with this kid and let him play a year of junior unless he absolutely just plays lights out. Quite frankly after giving Brassard and Voracek another year or two of development and seeing the benefits of it now I think it would be a wise decision. Could be a little conservative but that's okay.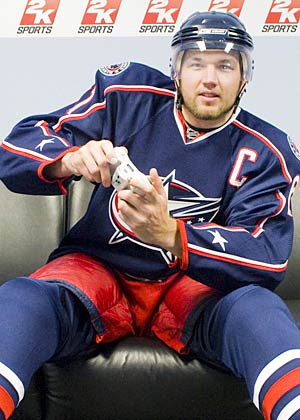 A friend just pointed me to this interview with Rick Nash over on ESPN.com:

ESPN: When did you first realize that you were on the fast track to becoming a professional hockey player?

Rick Nash: Remember back when you were a kid and you had to write down what you wanted to be when you grew up? I always wrote NHL player. I didn't even think it would happen back then, I mean how many kids in Canada and around the world are dreaming about that, and it only really happens for a small, select percentage. But that was my dream. Then when I was 17, I saw the first central scouting list that came out and I was rated fourth in North America. That's when I realized that I needed to take this a bit more serious because my dream was about to become my job.

That picture is a classic. That is a fantastic read so be sure to check it all out. Being on the cover of that game really is giving Nash and the Jackets some great exposure!

UPDATE: It looks like Khabibulin will not be starting tonight as the Blackhawks have just waived him. I doubt anyone claims him due to that contract but there are a lot of teams with goaltending question marks so you never know.

-LTL