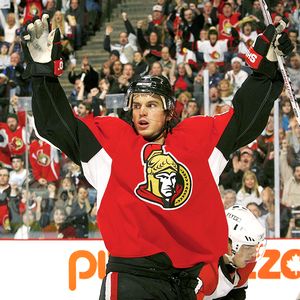 I've read quite a bit lately
on a debate over on HF regarding fans arguments to and for trading this year's 1st round pick to Ottawa for
Antoine Vermette
.
For those unfamiliar with Vermette he's a 26 year old winger/center who notched 53 points last season for Ottawa. He's an un-signed restricted free agent and scuttle butt has it that Ottawa is not willing to pay what he would command so its thought that he's on the trading block.
Vermette filed for arbitration which makes him ineligible for teams to sign him to an offer sheet so any thoughts of Vermette in the bug would have to come via trade.


With an obvious hole at center in the Jackets' top 6 Vermette would certainly make sense for the CBJ. Sure Brassard could step in but many Jacket fans aren't willing to risk the season on yet another young stud who may or may not deliver -- they want proven bodies.

Quite frankly after 7 years of losing who can blame them right?

Assuming for a bit that Ottawa does want to move Vermette would the Jackets be interested?

I would say of course but the problem is two fold - what to give up and can the Jackets afford him?

In term of assets to give up many Jacket fans are willing to part with this year's first round pick -- some are not. I would say Howson is in the "not" camp for now and I would agree with that.

Why?
A couple of reasons.
I know even 1st round draft picks can be crap shoots (see Brule/Picard) but until we know what kind of team we've got here you can't risk trading away what could be a top 10 pick in a very deep draft.

That's not to say Howson is against trading the pick but if for some terrible reason the Jackets find themselves in the lottery again a top 5 pick will return you a much better player than Vermette.
Of course some would then say well trade it now and get Vermette and you won't be a lottery team.
He certainly could but what if he isn't? Would Vermette really be the difference on this team to push it from a non-lottery team to a the brink or in the playoffs?
I don't think so.
Lets be honest here I love Vermette and he is a very good player but he's not elite. If the asking price for Vermette is a 1st rounder than I just can't see Howson parting with that asset now. That's not to say he won't move it eventually but I think he waits until he sees exactly what he's got with this squad as is.
If Howson hadn't been active until now I could see taking the risk on dealing that pick now. However with 6 new faces plus Brassard & Voracek that's clearly not the case. Sure we can guess where the holes are but we won't know for sure until Hitch molds this group and season play kicks in.
For all we know perhaps when it shakes out we discover we need more defensive help than we need a top 6 player. Then what do we trade to fill that hole?
Also as the season rolls on perhaps a guy like Klesla becomes expendable if guys like Rome/Methot/Clitsome/Sigalet/Holden prove step up their games thus giving Howson more bullets to play with.
Keep in mind as well that Howson is going to need some ammunition at the trade deadline and there is nothing better than draft picks as currency at that time of the season. If he deals those picks now what does he use to add those players we were all so disappointed he didn't pick up last season?

We also can't forget that no matter what Howson or ownership says publicly there is a budget number that this team will stick to. I really believe that. That number is believed to be between 48 - 50 million. By my count Howson has 21 players signed to 44.335 million. Pencil Leclaire in for 4 mil and your already at 48+ mil.


Unless ownership ups the budget (don't hold your breath on that) Howson will have to swing a deal that will have money going out the other way. Quite frankly we don't have a lot of roster assets that 1. we are willing to part with and 2. the ones we would part with anyone would want.


I will say in ownerships defense that this is by far the most money they have ever committed to a Jackets roster and I fully believe that if this team is in the hunt come deadline time Howson will get the green light to go out and get what it takes to put this team in the playoffs.

For now though I think they take this group into camp and Howson saves his picks to use in-season if at all. If somethign falls into his lap sure he'll make a move but its unlikely. For me I'm okay with that plan.

Here are some more interesting CBJ
schedule points that I read
here
. This guy does a fantastic job of breaking down the schedule every season.
* The Jackets play the most back to backs of any team in the NHL at 20. St. Louis is second with 19. Colorado is lowest with only 8.
* The Jackets will travel the 13th most of any NHL team at 67,964 kilometers. That is an 833 kilometer increase over last season. The New York Islanders travel the least amount at 45,235.
* 12 of the top 15 that travel the most are in the West.
* Columbus is tied for 6th overall in the league in playing 3 games in 4 nights. They do that 18 times this season. Carolina has the most at 21.
* Columbus is tied for 23rd in the league in terms of longest home stand with 4 straight. Colorado is first with a league best 8 game home stand. Rangers get the shortest end of the stick only having a 3 game home stand.
* Columbus is tied for 6th with 13 other teams with the longest road trip with 6.

Not sure if anyone caught the ESPYs last night (I had an adult hockey league game so I missed them) but our boy Nasher was up for "play of the year". He didn't win but by all accounts it was some really great exposure for Nash and the Jackets.
Thanks for the comments about the Commodore signing yesterday. Sounds like a good turnout and that he was, as we've all heard, a very fan friendly player. If the FSN Ohio Blueline was smart they'll have Union Blue Mike Commodore Robes and Flaming Red Afro Wigs ready to sell by opening night.
Oh and one fan's comments I particularly liked was that when he asked Commodore if he could "go after Tootoo on opening night?" Commodore's response was "Yeah, I'll be after him all night".
Discuss - Would you be willing to move this year's pick for a player like Antoine Vermette right now? Or do you hold onto it to perhaps use later in the year? Or not use it at all?
-LTL