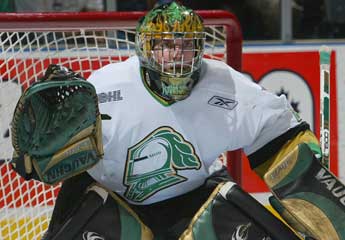 According to the Dispatch blog 19 year old goaltender Steve Mason (pictured right) has been returned to the London Knights of the Ontario Hockey League.

Mason, a 6'3" 190 lber 2006 3rd round pick, had a stellar camp and was held with the big team longer than expected for insurance in case Fredrik Norrena or Pascal Leclaire weren't healthy and because of his strong camp. Obviously the organization is happy with what they saw with Norrena/Leclaire over the weekend thus returning Mason to his junior club for the season.

I'm sure in London right now they are breathing a little easier now with this news as their team has went 0-6 without Mason and their two star forwards from last season in Partick Kane and Sam Gagner (both of whom went in the first 6 picks of this past summer's draft).

To me this was absolutely the right move for both the organization and for Steve Mason. Mason, right now, is clearly the goaltender of the future for the Jackets and needs to be playing and developing and not sitting. He'll now start just about every game for London and have a legit shot at playing for Team Canada on the biggest junior stage at the World Junior Championships.

As far as the Jackets its now up to Pascal Leclaire and Fredrik Norrena to "carry the flag" between the pipes for the Jackets. Both guys have shown the ability and now need to show the durability. If one goes down then the Jackets will have to rely on Tomas Popperle who is the starter in Syracuse which for us win now fans, is a risk as goaltending is the most important position on the ice and Mason has definitely passed Popperle on the depth chart. The Jackets cannot call up a player once they are returned to juniors until after their season concludes which is why Mason is now, for all intents and purposes, out of the pro picture this season.

In other CBJ news these are the lines used in practice today:


Nash -- Modin -- Vyborny
Novotny -- Fedorov -- Zherdev
Chimera -- Malhotra -- Boll
Fritsche -- Peca -- Brule

I think its safe to say that Hitch will be going with four full lines come Wednesday thus a defensemen will be scratched.

Syracuse forward Alexandre Picard is back in town. He wore a brace on his left knee, courtesy of the operation he had to repair two torn ligaments that he suffered against Rochester at the end of last season. When he starts playing again, he'll need to wear that brace.
Pic's return date could be sooner than expected. He's been skating in Columbus for three weeks. Now, in Syracuse, he will skate after practice. In three or four weeks, he can start going through drills with the team. And a couple of weeks after that, he should be ready to play again. So right now, we're looking at mid-November, which is a couple of months ahead of schedule.
"Before I skated, I was really worried, how's it going to be on the ice?'' Picard said. "Once I started to skate, it's the same (as before). I feel good on the ice. I feel like nothing happened.''

That is fantastic to hear he is ahead of schedule and even better to hear he's skating and it feels like nothing happened.

Kramer also mentioned that Zenon Konopka was in Columbus and saw some doctors regarding his hand injury. He wasn't cleared yet but was given the OK to resume skating. He could be back in two weeks.

-LTL