As I'm watching the NCAA D1 Hockey National Championship game (Notre Dame down 3-1) I ran across this quote from Blues President John Davidson which I thought related very well to the Jackets situation and really got me thinking (as you can no doubt tell by my lengthy post)

Here's Davidson:

"The power play needs help, there's no question," Davidson said. "But the power play needs help because we need more puck-moving defensemen and we need a centermen who's a playmaker.

"We haven't had either one of those here in two years. That's a fact of life. You can run out and get a (free agent), but it's going to cost you $6 million. And they're not going to want to come here. We looked at them all last summer, but they don't want to come to a team that's last in the league. That's how it works. That's why I keep saying, 'We have to develop our own and be patient doing it.' If not, who are you going to bring in? Some second- or third-tier guy that you've got to overpay?"

Davidson makes a good point here. In Unrestricted Free Agency you always overpay. Heck he overpayed for Kariya last offseason - its the name of the game. However as he points out, most of the time you don't build the core of your team through UFA - you just compliment it.

Looking at teams the successful formula seems to be the draft, then trades and then compliment with UFAs.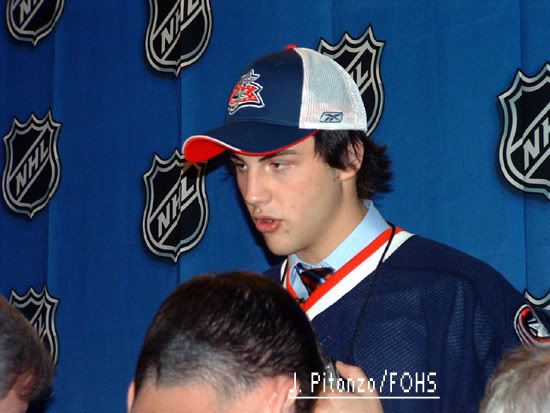 Look at the conteders this season:

Detroit - Lindstrom, Datsyuk, Zetterberg, Holstrom, Kronwall, Franzen, Filpula all draft picks. Traded for Chelios way back when and Brad Stuart. The picked up Rafalksi as a UFA to compliment that group and Hasek was a UFA.

Pittsburgh (or what I call the luckiest team in the NHL) - Crosby, Malkin, Malone, Whitney, Fleury, Letang all picks. Traded for Hossa. UFAs Sykora, Gonchar, Hossa, Sydor.

Washington (2nd luckiest) - Ovechkin, Semin, Backstrom, Fehr, Eminger, Green all picks. Made trades for Huet, Fedorov, Cooke. UFAs were Nylander and Poti.

San Jose - Marleau, Cheechoo, Michalek, Carle, Pavelski, Setoguchi, Clowe, Erhhoff all picks. Thornton and now Campbell the big trades. Roenick and Grier UFA signings.

Montreal - Koviu, Ryder, Higgins, Plekanec, Latendresse, Kostistyn (both of em), Markov, Komisarek, Price all picks. Big trade with Kovalev. Brisbois UFA.

Minnesota - Gaborik, Koivu, Bouchard, Belanger, Sheppard, Pouliot, Shultz, Burns, Harding all picks. Signed Dmitra, Rolston, Parrish and Johnson as UFAs.


Nashville - Weber, Legwand, Erat, Radulov, Tootoo, Zidlicky, Hamhuis, Suter, Klein all picks. Sullivan a trade. Arnott, Dumont, De Vries all UFAs.

Now of course some teams buck the rule. Philly made a lot of moves this offseason and are a grab bag of just about everything but Mike Richards, a draft pick, is their heart and soul. Boston has a key UFAs Chara and Savard leading that team. Same with the Rangers who have UFA signing Gomez leading their team in points but have a lot more picks in their lineup with Dubinsky, Girardi, Staal, Calahan, Prucha, Dawes, Rozival, Tyutin and of course Lundqvist than they used to.

The good news is that some of the picks we did make are now finally becoming our core:

Picks Nash, Leclaire, Klelsa and Z were our most effective players last season. Russell, Boll, Fritsche, Tollefsen and Murray made significant contributions. Lindstrom, Pineault, Brassard, Picard, Sestito all saw time with the big club.

Here were the players that were traded for on last year's roster:

Traded Chimera, Modin, Fedorov, Tarnstrom, Glencross, Rome, Wilson, Konopka - combined those players scored 96 points.

UFAs Foote, Peca, Hejda, Novotny combined for 84 points.

Nash and Z alone had 130 points.

So
what's my point?

There really aren't any shortcuts towards buidling a contender...your core typically comes from the draft but you must hit on some draft picks, especially your high ones.

Our problem is we've drafted like shit under MacLean's watch. Instead of taking cornerstone players like Dion Phaneuf we took Nik Zherdev. Instead of Anze Kopitar we took Gilbert Brule. We have yet to really unearth any late round gems although perhaps Steve Mason or Kris Russell could be a couple of those guys down the road.


You also must have competent coaching to develop these picks. Our AHL team is making progress which is a good sign. We have a coach in Hitch who knows how to work younger players into the NHL when they are ready. Boll, Murray and Russell all saw significant time under Hitch.

The good news - early signs of drafting under Howson look very promising however.

2007 1st round pick Jakub Voracek is absolutely tearing up the QMJHL. He racked up 101 points in 53 games which was good for 4th in league scoring even though he played substantially less games than two of the three above him. He also has 16p in 11 playoff games which is good for 8th in scoring.

2nd round pick Stephan Legein is also ripping it up in the OHL playoffs. He is tied for 3rd in scoring with 17 points in 10 games played.

Then you have defensemen Will Weber who was a second round pick as well, who according to reports I've read on various prospect boards, stock is actually on the rise. He's playing in the USHL and is bound for Maimi of OH next year. He's got 18p in 46gp with a whopping 137 PIMS.

From there is Maxim Mayorov of whom is a highly touted Russian propsect that Howson is currently trying to North America to continue his development.

Of course these picks need to do something at the NHL level before you can say anything but the start is promising.

That brings me to the #6 overall pick this year. Can we really afford to deal it when past and current history shows that this is where your team is built? If it was a weak draft I may be more forgiving but this is said to be the best draft since 2003 when the following players went top 20:

1. Pittsburgh (from Florida) Marc-Andre Fleury G Cape Breton (QMJHL)
2. Carolina Eric Staal C Peterborough (OHL)
3. Florida (from Pittsburgh) Nathan Horton C Oshawa (OHL)
4. Columbus Nikolai Zherdev F CSKA (Russia)
5. Buffalo Thomas Vanek LW Minnesota (WCHA)
6. San Jose Milan Michalek RW Budejovice (Cze.)
7. Nashville Ryan Suter D U.S. U-18
8. Atlanta Braydon Coburn D Portland (WHL)
9. Calgary Dion Phaneuf D Red Deer (WHL)
10. Montreal Andrei Kostitsyn W CSKA (Russia)
11. Philadelphia (from Phoenix) Jeff Carter C Sault Ste. Marie (OHL)
12. N.Y. Rangers Hugh Jessiman RW Dartmouth (ECAC)
13. Los Angeles Dustin Brown RW Guelph (OHL)
14. Chicago Brent Seabrook D Lethbridge (WHL)
15. N.Y. Islanders Robert Nilsson C/W Leksand (SWE)
16. San Jose (from Boston) Steve Bernier RW Moncton (QMJHL)
17. New Jersey (from Edmonton) Zach Parise C North Dakota (WCHA)
18. Washington Eric Fehr RW Brandon (WHL)
19. Anaheim Ryan Getzlaf C Calgary (WHL)
20. Minnesota Brent Burns RW Brampton (OHL)

That list is sick. There is maybe one bust in there... Hugh Jessiman... one! I'd say we got the worst player in the top 6 and with a 60 point season last year that's saying something.

This is also why Howson can't move guys like Brassard, Voracek, Russell or Mason. They are the high end skill players this team needs more of....they become your core. Couple that with the fact we seem to finally be giving players time to develop properly and we may be finally on to something here. Voracek was held in juniors another year; Brassard a year in Syracuse; Mason to start in AHL next year. The only '?' is Russell, hindsight being 20/20 he probably should have played in the AHL last year but we desperately needed his skill set.

...but there is no denying the team needs a massive upgrade in skill now. I want to win now as much as anyone which is why something has to give right?

I'm all for packaging Colorado's pick for some immediate help and I think there are lots of assets that we could also potentially package (Z, Brule, Picard, Fritsche, OKT to name a few younger assets) but I'm leaning towards keeping that top 6 pick unless we get one helluva of an offer we just can't refuse.

I know in one breath I'm saying hold onto picks so why am I suggesting trading former picks.... aren't they part of the core? The reality of the situation is that Rick Nash and Pascal Leclaire are our only real core players currently on this roster. Nobody else on the roster is there yet and may not ever be there thus they become expendable.


We know that OKT/Fritsche/Brule were rumored to be part of the offer for Richards so that tells me Howson doesn't view them as "core" players. Besides Nash and Leclaire we know Brassard, Voracek, Mason, Russell and Z were on the untouchable list which tells me he sees potential for them to develop into "core" guys. My personal opionion is that Z is no longer on that list after his performance, or lack there of, down the stretch but that could be a reach on my part.

Trades is the next route for Howson. This is an area he hasn't really been tested yet. I'm not really counting the Glencross or Platt deals or the unloads of Foote and Feds. Sure there is some room for applause and criticism there but I'm withholding judgement until he really puts his butt out there and makes a big committment. He needs a couple of big moves pre free agency that shows this team is serious about contending next year.

Howson also has to do a much better job than the previous regime in identifying and bringing in unrestricted free agents that can compliment this roster. I don't think the UFAs that we'll attract will be the cream of the crop but we need skill guys who compete and can compliment the overall structure of what we are building here. Hejda was a nice start on a budget. Peca was decent for a late offseason grab after Svitov bolted but his real test is this summer.

Its certainly a balancing act. From drafting to trades to free agency. From youth to experience to cost. All the pieces need to fit.


Its Howson's job to make us competitive now without sacraficing being competitive tomorrow. He has a lot of tools to work with this summer to accomplish it.

What do you all think - trade the 6th pick? If so what would you expect in return? Keep in mind the caliber of players that went in 2003 - you are potentially giving that up if you move the pick.

-LTL